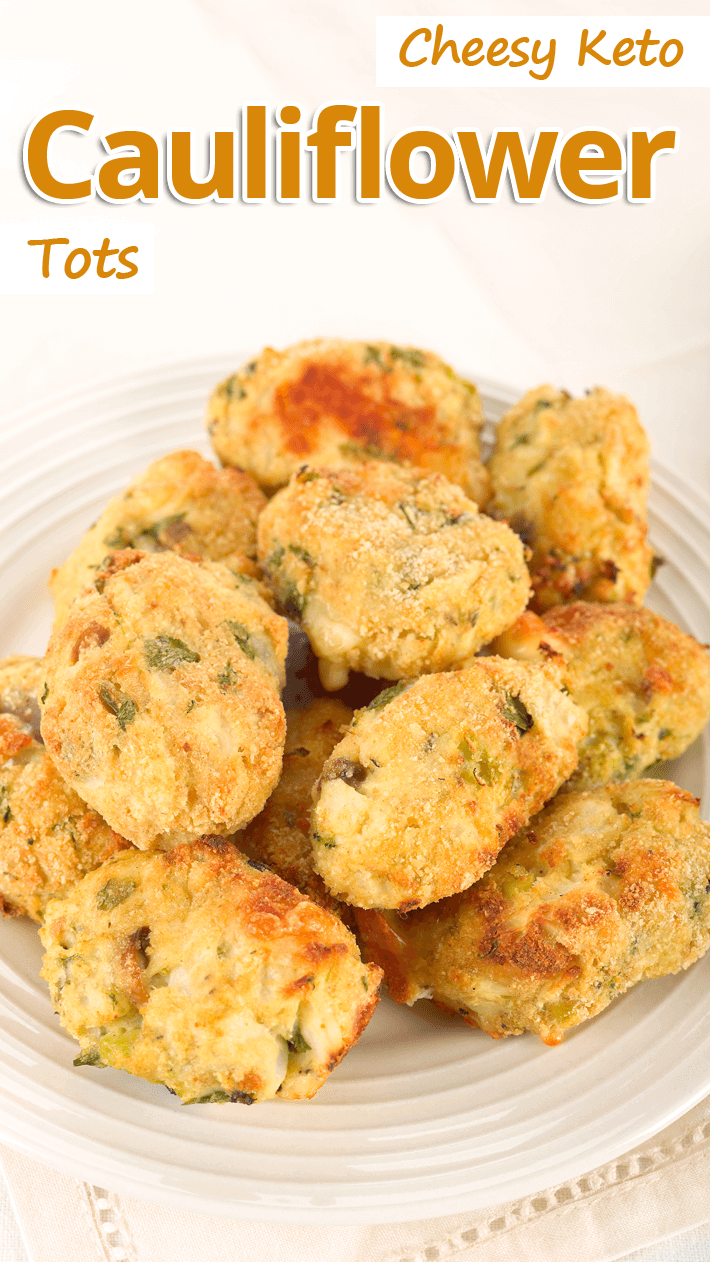 "This easy, cheesy cauliflower tots recipe needs just 4 ingredients! Low carb and keto cauliflower tater tots with sugar-free ketchup make the perfect healthy comfort food." Cheesy Keto Cauliflower Tots – You must try this recipe.
Let us know if you liked this recipe. Try the other recipe categories as well!
---
1 1/2 lb Cauliflower (riced, measured after ricing, about 1 head)
1/4 cup Avocado oil (or any oil; divided)
1 large Egg
1 1/2 cup Mozzarella
2 cloves Garlic (minced, optional)
3/4 tsp Sea salt
---
Stir fry cauliflower rice in 2 tbsp (30 mL) oil in a large saute pan or wok over medium-high heat, until soft and lightly browned, with no moisture left in the pan.
Meanwhile, whisk the egg in a large bowl. Mix in the mozzarella, garlic, and sea salt.
When the cauliflower rice is done, stir it into the bowl right away while it's hot. It will melt the cheese in the bowl and make the mixture sticky.
Use a small cookie scoop to pick up balls of the "dough". Form small tater tot sized patties and flatten slightly. (Make sure they are not too thick so that they'll cook through.)
Wipe the pan lightly with a paper towel to get rid of any cauliflower rice pieces.
Heat the remaining 2 tbsp (30 mL) avocado oil in the pan over medium heat. Add the tater tots in a single layer, trying not to have them touch, and fry for about 2 minutes, until golden on the bottom. Flip and repeat until golden on the other side. Transfer to paper towels to drain.
Repeat with all tater tots. (You may need to add more oil between batches.)
Enjoy 🙂
---
Nutrition Facts
Per Serving: 142 calories; 11 g fat; 2.9 g carbohydrates; 7 g protein.
---
Recipe by: Christine P, Photo Credit: rainbow33
---
Submit Your Recipe!
Please remember, We cannot accept any recipes taken from a book/website/other source. Remember that a reader should be able to take your recipe and cook from it without encountering any problems. End all recipes with a useful tip, e.g. an alternative ingredient you could use, something the dish goes well with, whether you can freeze it, etc.
Get more stuff like this
Subscribe to our mailing list and get interesting stuff and updates to your email inbox.
Thank you for subscribing.
Something went wrong.